Laugh, they did when in the last announcement when I predicted snow and taxes. The taxes---inevitable. The snow, flurries were seen and felt in the month of April. There is no denying, plausible or otherwise. So scoffers, in lieu of apologies, I accept cash. No checks, but picking up the tab at the Literary Café is acceptable.
Another prediction: with the aftermath of the April showers, there will be the May flowers. I never know what flowers will pop up, perennials with their consistent production of beautiful and perfume, or annuals dropped from a bird's meal (either end) or blown in from the wind. This next Thursday, May 8 at 9:30pm at the Literary Café, the flowers of Danilee Eichorne and Tom Kryss will be blooming in their full poetic color. Tom is a perennial for sure and Danilee has popped up like an annual.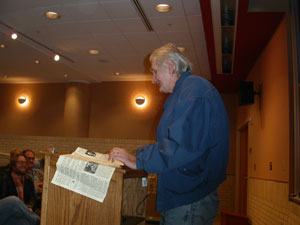 To be anywhere connected to the Cleveland poetry scene, is know of Tom Kryss, a beautiful man and an icon of Cleveland poetry. A compatriot of d.a. levy, Tom shows what gentleness and perseverance over the decades can achieve. Born in Cleveland in 1948, he edited the school newspaper, established a literary magazine, and worked at a local suburban weekly before he was 20. After a short stint at Northwestern University, he returned to assist the defense fund efforts of James Lowell and levy. For years, Tom has printed and made poetry books outside, or at the edge, of the publishing mainstream; illustrating them with his serigraphs and those of his wife, Carolyn. Under his Ghost, Cold Mountain, and Black Rabbit Press imprints (1966-2004) he set his hand to producing editions of the poetry of such authors as Kent Taylor, Douglas Blazek, Howard McCord, Al Purdy, and D. R. Wagner. His collection of rabbit drawings, Krulik Kisiega, planned as an Ayizan Press publication by levy, was brought out by Cleveland author and publisher Steve Ferguson under the Ayizan Press imprint in 1970, two years after levy's death. His youngest daughter, Hilary, an artist and writer, remains the designated and occasionally perplexed illustrator to his own writing. In 2005, a compendium of his writing over decades, A Search for the Reason Why, was issued by Bottom Dog Press.
Danilee Eichorne is the first of the Lit Café's young regular poets that has graduated from the university of 2nd Thursday Open Mic to be come a full feature reader. She has a sweet lyrical style and a grounded sense of observation. Originally from a suburb of Philadelphia, she came to this neck of the woods to attend Oberlin College to study political science. She dropped that to concentrate on writing between the various odd jobs that artists do to get by. She now lives in the Duck Island portion of Tremont and says that poetry and storytelling have been a part of her life since she doesn't even remember when, but that the Cleveland chapter of her life has seen the largest developments of her style. We can attest to that and that is why she has graduated to star position on the microphone.
So come sniff these blossoms next Thursday, May 8 (only 4 days and 18 years since four flowers fell at Kent State) and perhaps hear Tom reminisce on that fateful day. We are at the Literary Café, 1031 Literary Rd. in the bouquet that is the Tremont neighborhood of Cleveland.